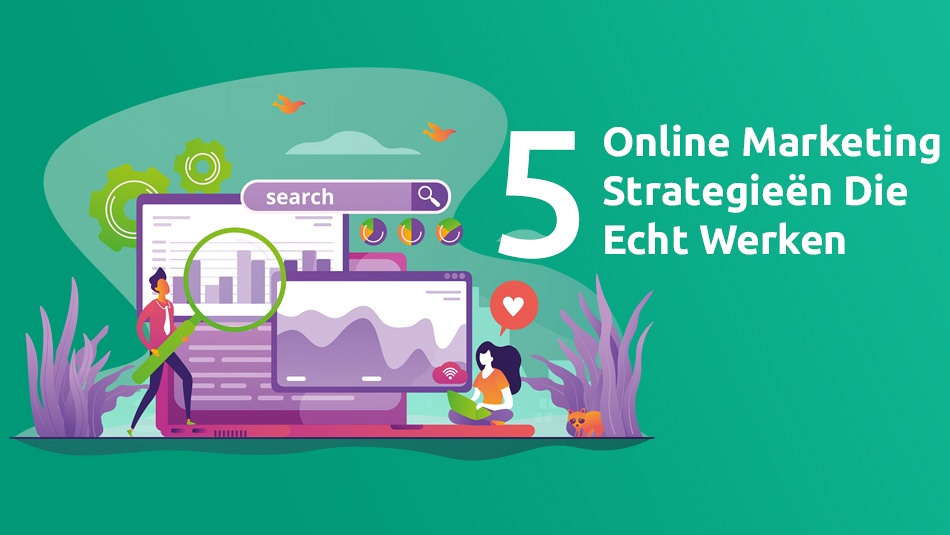 5 Online Marketingstrategieën Die Echt Werken
Chatbots, A/B split tests, ingewikkelde marketing funnels, ... Verspil er je tijd niet aan! Als kleine zelfstandige of eenmanszaak zou je focus niet op die strategieën mogen liggen.
De online marketingstrategieën die wel je aandacht verdienen, zijn degene die 'niet sexy' zijn. We overlopen enkele van die strategieën en hoe deze voor jouw bedrijf toegepast kunnen worden.
De sleutel tot online marketing succes is jezelf de mentaliteit van de klant aanmeten.
Stop met de hard sell en focus op het oplossen van de klant zijn probleem door gratis, waardevolle content aan te bieden die relevant is aan je product of dienst. Dat gezegd zijnde, zijn hier de 5 beste online marketingstrategieën die echt werken voor kleine zelfstandigen en eenmanszaken:
1. Bloggen met SEO in het achterhoofd
Bloggen... dat is niet schrijven over wat je vandaag gedaan hebt.
Als je de dagboek-aanpak gaat gebruiken voor je blog, dan heeft je blog een bestaand en loyaal publiek nodig. Als dat niet het geval is, dan gaat het moeilijk zijn om op die manier gevonden te worden.
Hoe los je dat?
Door te schrijven over de problemen die je doelpubliek heeft en waar ze een oplossing voor zoeken.
Stel nu dat je een IT-specialist bent, dan is de kans groot dat je klanten zoeken naar onderwerpen zoals:
Waarom is mijn computer zo traag?
Hoe kan ik mijn netwerk beveiligen?
Hoe kan ik thuis sneller internet krijgen?
Hoe ontdek ik die zoektermen?
Je kan jouw diensten of een belangrijke term invoeren in de online tool van Answer The Public en je krijgt meteen inzicht in de belangrijkste zoektermen die klanten gebruiken wanneer ze online gaan zoeken.
Als we bijvoorbeeld de term 'trage computer' invoeren krijgen we meteen een hele lijst onderwerpen zoals: hoe trage computer sneller maken, wat te doen bij trage computer, redenen trage computer, ...
Je kan potentiële klanten helpen om deze problemen op te lossen terwijl je je producten of diensten in de teksten integreert.
Een trage computer kan bijvoorbeeld te maken hebben met RAM-geheugen of de harde schijf. Dus je kan potentiële klanten helpen om hun probleem te ontdekken en daarna producten of diensten als oplossing aan te reiken.
Dit concept werkt binnen elke branche.
Als verzekeringsmakelaar zou je kunnen bloggen over de hoge dekkingsgraden van je polissen... Maar wie wil dat nu lezen? Blog daarom over de echte problemen waar potentiële klanten mee worstelen. Zij zullen zoeken naar:
Wat kost een autoverzekering?
of
Wat bepaalt de prijs van een brandverzekering?
Blogberichten die geoptimaliseerd zijn voor deze zoektermen lokken een erg interessant publiek, namelijk de personen die op zoek zijn naar jouw producten of diensen. Ze zijn bereid om iets te kopen en hebben een brandend verlangen om hun 'probleem' op te lossen.
Als je consistent kunt bloggen met SEO in het achterhoofd en dit op de juiste manier kunt opnemen in je online marketing strategie, dan ga je elke maand opnieuw gratis bezoekers naar je website sturen via Google.
Dieper ingaan op het schrijven van een blog? Klik Hier >>
2. Social media marketing
De meeste bedrijven maken op twee manieren gebruik van hun sociale media:
Een bedrijfspagina aanmaken en heel sporadisch (of zelfs niet) posten.
of
Saaie berichten en promoties blijven posten die alleen maar hun producten of diensten vermelden.
Behoort jouw bedrijf tot een van die categorieën? Stop daar dan meteen mee. Dat is niet de juiste strategie voor sociale media.
Eerst en vooral straalt je bedrijf weinig vertrouwen uit als er niet op regelmatige basis nieuwe content gepost wordt.
En door saaie content te posten verspil je je eigen tijd en kom je onsympathiek over bij je volgers.
Wat kan ik dan wel doen?
Leg de nadruk niet op het aantal volgers of aantal likes.
In tegenstelling tot wat vaak wordt gedacht, is het niet noodzakelijk om degene te zijn met het meeste aantal volgers of likes. Het is juist de kunst om een netwerk op te bouwen waar je doelpubliek graag interactie mee heeft en waar ze terecht kunnen met hun vragen of problemen.
Pas jezelf ook aan het platform aan.
Ongeacht het product of dienst dat je aanbiedt, je moet de moeite doen om je doelpubliek te begrijpen.
Waarom zitten ze op dit sociale netwerk?
Wat voor content helpt hen?
Hoe kan ik daartoe bijdragen?
YouTube leent zich perfect voor een doelpubliek dat op zoek is naar entertainment of dat iets bij wil leren.
Facebook daarentegen is helemaal anders. Daar ziet men graag interessante, grappige of zelfs schokkende content die ze kunnen delen met vrienden.
En de gebruikers op LinkedIn? Die kicken op zakelijk nieuws, kennis delen, etc.
Heb je het te druk met de zaak om je met Social Media bezig te houden? Aarzel dan niet om een social media manager in te huren. Want zeg nu zelf... zo'n bedrijfspagina waar de laatste update 7 maanden geleden werd geplaatst komt niet echt professioneel over bij klanten.
3. Email marketing
Wij versturen elke maand een nieuwsbrief naar onze klanten.
Het neemt maar een paar minuutjes in beslag en je spreekt een geïnteresseerde doelgroep aan.
Zo kan je bijvoorbeeld elke keer dat je een blogbericht geschreven hebt een nieuwsbrief versturen. Of je kan een nieuwsbrief versturen wanneer de nieuwe collectie binnen is of wanneer je een promotie runt.
Die nieuwsbrief kan dan bij duizenden klanten terecht komen.
Maar zo'n e-maillijst opbouwen gebeurt niet vanzelf...
Er zijn verschillende manieren om dat te doen, maar bloggen met SEO in het achterhoofd (tip #1) is de beste strategie op lange termijn.
De volgende stap is ervoor zorgen dat die mensen zich inschrijven op je nieuwsbrief. 
Je zou een gratis E-book, whitepaper, videoserie of een checklist kunnen aanbieden in ruil voor hun e-mailadres.
Of je kan het simpel houden door een trigger in de zin van 'Blijf als eerste op de hoogte' te plaatsen aan het einde van elke post. 
Misschien wil je wel iets actiever aan je e-mail lijst werken door te adverteren op sociale media en te linken naar het inschrijvingsformulier of die gratis content die je aanbiedt.
Het is belangrijk om te onthouden dat het bouwen van een e-maillijst een werk van lange adem is, maar het kan wel zorgen voor een groot deel van je omzet. Wees dus niet bang om een e-mail lijst op te bouwen omdat je bang bent dat die niet groot genoeg gaat zijn.
Doe de moeite om een lijst op te bouwen en die personen geboeid te houden door ze interessante informatie te sturen. Ook al is dat maar naar 10 of 20 personen.
Door hier consistent mee bezig te zijn zal je een lijst opbouwen van personen die graag van je horen en kopen.
4. Adverteren op Google
De meeste kleine zelfstandigen en eenmanszaken overwegen het niet eens om te adverteren op Google, want dat is niet 'gratis'.
Niets is echt 'gratis' als je overweegt hoeveel tijd er in andere strategieën steekt.
En tijd is geld...
Waarom zou je dan terughoudend zijn als het aankomt op betaalde advertenties?
Wanneer klanten vandaag de dag over een product of dienst horen, dan is hun eerste reactie: 'Dat ga ik eens online opzoeken.' en daar wil jij met je bedrijf aanwezig zijn.
Om meteen resultaat te boeken en bovenaan de zoekresultaten te staan, blijft adverteren op Google de beste oplossing.
Je wil natuurlijk wel vermijden dat je blindelings geld weggooit of adverteert op zoektermen die niet interessant zijn.
Daarom is het aangeraden om je vooraf in te lezen in de werking van Google Ads of een professional in te schakelen.
5. Video's posten op YouTube
Als we over zoekmachines praten, dan weten we allemaal dat Google de marktleider is.
Maar weet je ook wat de tweede grootste zoekmachine ter wereld is?
Als je Bing gegokt hebt... Dan heb je fout gegokt. 
De tweede grootste zoekmachine ter wereld is YouTube (wat eigendom is van Google...)
Ook op YouTube gaan potentiële klanten op zoek naar de oplossing voor hun problemen.
Zo zijn er meer dan 300 zoekopdrachten per maand naar de term 'afvallen' en relevante zoektermen zoals afvallen zonder sporten, afvallen in een week, hoe kan je snel afvallen, ...
Dus als je een personal trainer of voedingsdeskundige bent, zou je best wel eens een video kunnen maken rond deze onderwerpen en daarin je diensten (of producten) aanraden.
Omdat Google nu ook video's weergeeft tussen de zoekresultaten (vaak boven de websiteresultaten), kan je video ook erg goed scoren in Google.
Je kan deze keywords ontdekken met de YouTube Keyword Tool van Ahrefs.com
Om deze strategie succesvol te implementeren is het zaak dat je elke video zo behulpzaam en waardevol mogelijk maakt. Wees to-the-pint en zorg dat je niet te commercieel overkomt.
Dit zal zorgen voor nieuwe, betalende klanten en meer naamsbekendheid. 
Het is belangrijk om te weten dat je niet al deze strategieën in één keer uit moet proberen. Kies er eentje uit, experimenteer ermee en krijg 'm onder de knie voordat je verder gaat naar de volgende.
Meer afbeeldingen