Wat Is Een Google Partner? Laat Je Zeker Niet Misleiden!
Laat je niet misleiden door bedrijven die met de Google Partner-badge zwaaien. Google Partners zijn Google Ads-experts (d.w.z.: experts in adverteren op Google) en dat heeft logischerwijs niets met SEO te maken. Een door Google SEO-gecertificeerd bedrijf bestaat dus helemaal niet.
Je hebt vast al eens op een website gezeten van een bedrijf dat zegt gecertificeerd te zijn door Google. Als je dan verder leest op hun site, claimen zij een Google gecertificeerd SEO-bedrijf te zijn of dat het invloed heeft op hoe goed zij teksten voor zoekmachines schrijven.
Bijvoorbeeld: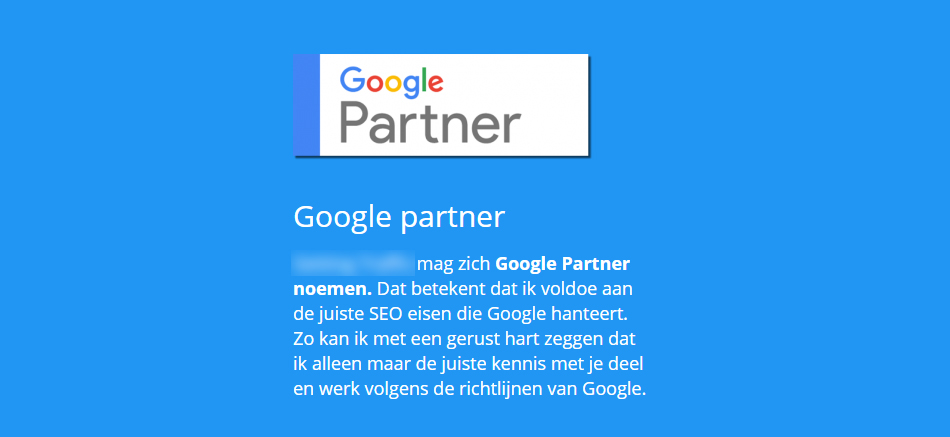 Jammer genoeg, moeten hier alle alarmbellen gaan rinkelen.
Google geeft helemaal geen certificering voor SEO. Dus dan stel jij me nu de vraag: Wat is een Google Partner? Laat me je even een woordje uitleg geven, zodat jij weet met wie of wat je te maken hebt.
Google Partners en SEO staan los van elkaar
Het feit dat een bedrijf een Google Partners-badge op haar website heeft staan, gaat je niet helpen om hoger te scoren in Google.
De Google Partner-badge laat zien dat een bedrijf is geslaagd voor de Google Ads-productcertificeringsexamens en op de hoogte zijn van de nieuwste productkennis binnen dat platform.
Met andere woorden: ze zijn geslaagd voor de nodige tests om deze badge te mogen tonen op hun website. Op deze manier staat het letterlijk op de Google Partners website:
The Google Partner badge shows that specific Partners have passed Google Ads product certification exams and are up to date with the latest product knowledge. In other words, they earned it.
Een Google Partner is dus gespecialiseerd in het adverteren op Google (Google Ads). Dat zijn betalende advertenties die bovenaan de zoekresultaten getoond worden.
Als klant weet je dan dat je een goede partner hebt voor je Google Ads-campagne. Om dit logo te mogen voeren moeten ze aan een aantal eisen voldoen:
Een volledig bedrijfsprofiel bij Google
Eén persoon binnen de organisatie die Google Ads-gecertificeerd is
Gedurende negentig dagen minstens 10.000 USD gespendeerd hebben aan Google Ads
Een bepaalde kwaliteitsscore behalen
Maar waarom zeggen ze dat dan?
Ik hoop altijd dat het gaat om een misverstand. Het is namelijk zo dat veel bedrijven instaan voor volledige online campagnes en die omvatten SEO, maar ook SEA (adverteren op Google). Dan kan het al gauw zijn dat er iemand binnen de organisatie niet weet waar de badge voor staat en deze 'per ongeluk' verkeerd gebruikt.
Anderzijds kan het ook zijn dat ze er bewust misbruik van maken. Zo'n badge boezemt natuurlijk veel vertrouwen in bij een klant en het lijkt al snel dat je weet waar je mee bezig bent.
Waaraan herken je een Google Partner?
Google Partners hebben het recht om een opvallende badge op hun website te palatsen. Er bestaan twee soorten:
Deze worden officieel door Google uitgegeven.
Laat je dus niet misleiden
Claimt een bedrijf SEO-specialist te zijn met certificaten van Google? Ga dan even na over welke certificaten het gaat.
Staat er een Google Partners-badge op de website? Klik er dan op en controleer welke certificaten ze behaald hebben. Die van ons bedrijf, Inspira bvba, kan je hier raadplegen.
Het is erg moeilijk voor Google om dergelijke communicatieproblemen uit de wereld te helpen, maar transparant zijn ze dus wel.
Hulp nodig met Google Ads of SEO?
Nu weet je precies wat een Google Partner is. Er zijn veel voordelen voor jouw bedrijf om in zee te gaan met een Google Partner. Inspira kan ervoor zorgen dat jouw Google Ads tot in de puntjes verzorgd worden, daarbovenop zijn we ook erg goed in SEO. Dus heb je hulp nodig met Google Ads of SEO? Neem contact met ons op, we helpen je graag verder.
Meer afbeeldingen