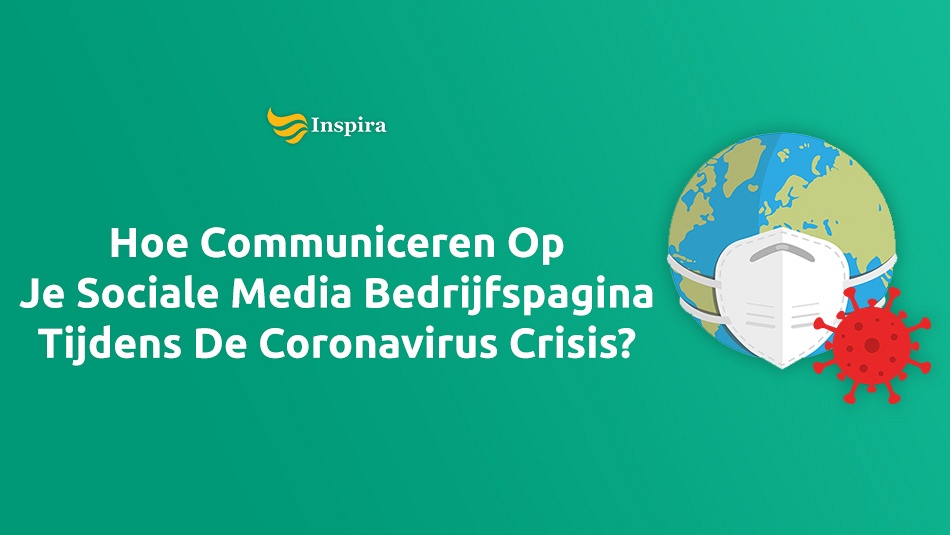 Hoe communiceren op je sociale media bedrijfspagina tijdens de coronavirus crisis?
Weet je niet wat zeggen op je sociale media bedrijfspagina tijdens deze coronavirus lockdown? We beantwoorden al je vragen over de toon en stem op sociale media, wat je best kan posten en hoe je kan communiceren gedurende deze moeilijke periode.
De maatregelen met betrekking tot het Coronavirus blijven van kracht en het is duidelijk hét onderwerp op sociale media. Iedereen verspreid informatie op sociale media, terwijl anderen ongevoelig lijken voor de crisis. Wat kan je als bedrijfseigenaar of marketeer nu best posten om ervoor te zorgen dat je sociale media op een doordachte manier actief blijven?
We raden je absoluut aan om je aanwezigheid op sociale media actief te houden door regelmatig updates en geplande berichten te posten op al je pagina's. In feite zou het zelfs interessant zijn om nu meer te posten dan voorheen. Probeer eens wat Stories uit als je die nog niet gebruikt hebt. Of misschien is dit wel een goed moment om een videoserie te starten aangezien je wat meer tijd hebt. Je klanten zitten nu ook meer op sociale media omdat ze verplicht thuis zitten of telewerken.
Aanbevelingen voor sociale media tijdens het Coronavirus
Ongeacht je persoonlijke mening over de uitbraak en hoe deze aangepakt wordt, iedereen zou nu alvast hun crisismaatregelen of aangepaste openingsuren op sociale media gepost moeten hebben. Verder moet je ook de toon en stem van je bedrijf wat aanpassen aan de situatie door meer empathie tonen. Twitter heeft alvast een fantastische set aanbevelingen neergepend voor al je bedrijfscommunicatie tijdens COVID-19.
Aangezien de maatregelen en het sentiment snel kunnen veranderen, moet je geplande inhoud minstens één keer per week controleren en indien nodig aanpassen. Zo waren geplande berichten voor kapsalons (die de eerste 2 weken nog wel open waren) niet langer relevant nu ze verplicht zijn te sluiten.


Realiseer ook dat je volgers mogelijks een geliefde, familielied of kennis hebben die besmet is met het Coronavirus of risicopatiënt is. Dus communiceer op een vrolijke, doch empathische manier. Ondersteun en moedig iedereen aan.


Doe niet af aan de ernst van de situatie of de maatregelen die de overheid treft. Vraag je niet af of de voorzorgsmaatregelen wel nodig zijn en vermeld niets dat aangeeft dat je de maatregelen niet volgt. Vermijd ook discussie en polemiek hierrond.


Post geen kortingen of koopjes en vraag niet aan klanten om reeds voor volgende maand te bestellen. Je wil niet dat het eruitziet alsof je van de situatie wil profiteren. En je wil ook niet ongevoelig overkomen voor de financiële problemen van anderen die misschien door de situatie ontstaan zijn.


Als je bedrijf aangepaste maatregelen treft, zoals andere openingsuren of een andere werking, post deze updates regelmatig op al je bedrijfspagina's (en ook op Google Mijn Bedrijf — met name aangepast openingsuren of tijdelijke sluiting).


Als je updates rond het virus zelf post, ook al is dat op je persoonlijke profiel, zorg er dan voor dat deze afkomstig zijn van zeer betrouwbare bronnen zoals het WHO of Info-Coronavirus.be — Je wil niet beschuldigd worden van het verspreiden van verkeerde informatie. Het is niet aangeraden om nieuwsupdates over het virus te plaatsen op je zakelijke accounts, tenzij dit lokaal relevante informatie van betrouwbare bronnen betreft.
Ideeën voor sociale media-inhoud tijdens COVID-19.
1. Wees duidelijk als iets in de toekomst ligt
Probeer te vermijden om over reizen, uit eten te gaan of evenementen bijwonen te spreken alsof je ze op dit moment aan het doen bent. Praat in plaats daarvan op een heldere manier over zaken die in de toekomst liggen. Denk aan: "Ik zou graag X willen doen als de maatregelen niet langer van kracht zijn" of "Ik kijk er naar uit om weer X te kunnen doen".
2. Verbind met elkaar
Praat in je berichten over de dingen die je thuis doet met je familie. Deel leuke ideeën en vraag voor aanbevelingen aan je volgers. Welke film moet je eens kijken? Wat is een leuke activiteit voor de kinderen? Welk boek moet je eens lezen? Wat is een leuke maaltijd om klaar te maken?
3. Geef tips
Geef tips met betrekking tot je branche die mensen thuis kunnen doen. Vertel ze bijvoorbeeld hoe ze hun interieur kunnen restylen met het decor dat ze reeds in huis hebben. Of post een serie blogberichten of een gratis videocursus of opleiding die ze kunnen volgen.
4. Vermeld het Coronavirus
Voel je vrij om het Coronavirus, COVID-19 of Social Distancing bij naam te noemen, maar wij raden toch aan om het op een subtiele manier te doen. Het is groot nieuws en door er niet over te praten kom je onsympathiek over. Dat wil niet zeggen dat je er in al je posts over moet praten. Een leuke 50-50 verdeling met een subtiele vermelding lijkt ons de beste manier.
5. Speel een spel
Je volgers zitten thuis en vervelen zich. Daarom is het misschien wel een goed idee om je diensten in spelvorm of aan de hand van een quiz in de spotlight te brengen. Zo zou je als restaurant een foto van een gerecht kunnen posten met de vraag: "Wie kan er raden welk gerechtje dit is?" of je kan een Facebook-poll houden met de vraag "Wie kan er raden welke foto Gentse Waterzooi bevat?"
Sociale Media Beheren Tijdens Het Coronavirus
Op momenten zoals deze is het belangrijk om in het achterhoofd van je volgers te blijven en actief posten op sociale media. Eens we het Coronavirus bedwongen hebben, zijn het net de bedrijven die ons wisten bezig te houden, motiveren en inspireren waar we onze eerste aankopen gaan doen. Die eerste inkomsten zullen van cruciaal belang zijn om financiële moeilijkheden te doorstaan. Elke klant, ongeacht de grootte telt. Ja, ook in jouw sector!
Reageer zoals altijd op alle reacties en chatberichten. Doe dat steeds met het grootste respect en empathie. Ook wanneer mensen onvriendelijk reageren... Misschien zijn ze gewoon gestrest door de situatie. Ga niet in discussie en probeer begrip te tonen voor ieders situatie.
Hopelijk zijn deze tips nuttig om te bepalen hoe jij omgaat met je sociale media ten tijde van het Coronavirus. Twijfel je of ben je niet zeker van je stuk? Goed nieuws, je kan je social media uitbesteden zonder dat je een ongelimiteerd budget nodig hebt.